I could eat about a million and a half of these. My momma always said life was like a box of chocolates. You never know what you're gonna get."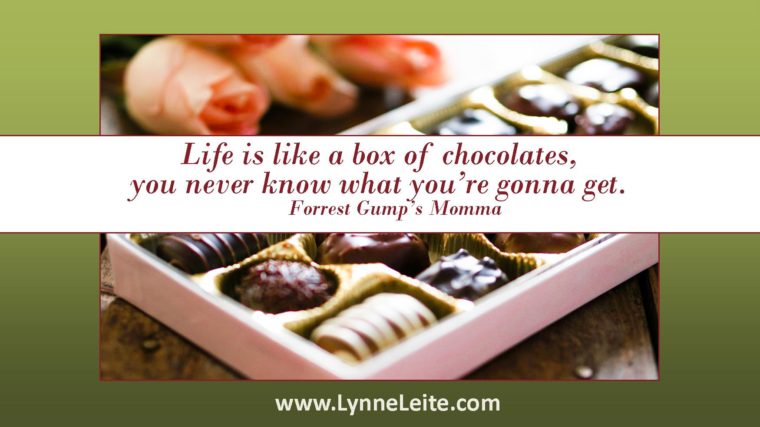 Okay. Fine. That's not how my story starts. That's actually the start of Forrest Gump, one of my favorite movies. But you can't blame a girl for trying! If you've ever tried to write a bio about yourself, you know how hard it can be. And I wasn't being completely disingenuous – I could eat about a million and a half of those chocolates.
My story actually includes a lot of "F" words: Faith. Family. Friends. Fun. And the reason for this site, Fulfilling a Dream. What "F" words did you think I was talking about?
Faith
The most important thing in my life is my relationship with Jesus. It is also one of the most challenging. It's not easy to be a follower of Jesus, but I can't imagine life – or eternity – without Him. I am blessed to be a part of His story. If you are interested in a more detailed statement of my faith click here.
Family
The next most important part of my story is my family. I have a wonderful husband and we have two terrific grown children – a daughter and a son. They are both married to the most amazing people, so now I have four kids to love .  And blessings upon blessings – I'm a grandmother! Being Nana is the best! My family contributes to my life story in the most precious ways….and they know that life with me means they are fair game for story material. Names may be changed to protect the innocent…and the guilty! If you would like to read some family stories, sign up for updates and receive my free ebook, Life Lessons, which contains stories from my life that were featured in Chicken Soup for the Soul books.
Friends
Like many writers, I'm an introvert by nature. Many people are surprised when I say that, especially because I'm a public speaker. I was just as surprised as anyone when I realized this about myself. But it's true. Don't get me wrong – I love people. Just in small doses. Because of my introverted nature, I spent many years not fostering deep friendships.  But I learned what a mistake that was and now I treasure my friends as the tremendous blessings they are to me.
Fun
For fun I like to go on walks and check out the neighbors' front yards. Or I like to walk to Dunkin' Donuts and get coffee. Or go for a walk around Dana Point Harbor, and get coffee. I love being in God's creation. And I love coffee. I love to read across genres. I love to study God's word. And for television entertainment I alternate between watching reality programs (Wicked Tuna, Gold Rush, any kind of cooking or baking competition) and British shows (Call the Midwife, any British crime drama). I'm an addict to self-publishing and writing podcasts. And I'm a coffee addict. Did I mention I like coffee? There are a million other ways I like to have fun, too; but, the most fun I have is when family is involved. They make anything and everything fun!
Fulfilling a Dream
I really am a storyteller at heart. In my overly active imagination every situation begs the question "what if…?"  Sometimes that can be a fun game. What if we won the lottery? What if that guy over there is about to propose to that girl? And sometimes not so fun. What if that guy in the gym has a bomb in his gym bag? What if your mother has a heart attack as she crosses the finish line of her first half marathon? That last one might have been inspired by true events. Well, it felt like I was going to have a heart attack! Just think, that's the kind of stuff my family has to live with! Can you say drama queen?
But that's the way my brain is wired and I believe God wired me that way for a reason…so I can tell stories. True stories and products of my imagination. Written stories and spoken ones. And I hope that, through my stories, I am able to entertain or inspire or provoke thought; but most of all, I hope I am able to bring glory to God.
Thank you for taking the time to get to know a little more about me. Seriously, God bless you for reading all the way to the end! You are a true friend in the making!