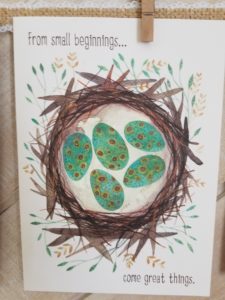 I got this greeting card a few years ago at Trader Joe's. They seriously have some of the best cards. The trouble is, I buy them and can never give them away because I like them so much. This was one of those cards.
Every time I see this card, in my mind, I replace the words on the card with this scripture verse,  
Do not despise these small beginnings, for the Lord rejoices to see the work begin, to see the plumb line in Zerubbabel's hand.      Zechariah 4:10
It is a verse I find myself returning to often lately.
I was getting ready to format my novel for print publication when I came across a post about Kindle Scout. What's Kindle Scout? I thought. I had no idea but soon found out that Kindle Scout is a program that gives authors with an unpublished novel the chance to be considered for a publishing contract with Amazon's Kindle Press imprint.
Stop the presses! Literally. I immediately put the print publishing project on hold and decided to give this Kindle Scout thing a try. I knew enough about starting an author business to know I would need a dedicated author website first. I already have a website for my speaking business, and building an author website had been on my to-do list for a long time; but now the website became a priority.
You're here, so the minimum viable website got done. Then there was the book description, author bios, and several other details that needed to be completed before submitting my application. Done and done.
Then I got the email from Kindle Scout:
Congratulations! Your campaign has launched! Make sure you let your network know! Facebook fans, Twitter followers, and email lists you have accumulated over the years are great places to start.
And that is when I started to despise these small beginnings. What network? You mean my Facebook friends and family? I don't have fans or an email list. Other than Trader Joe's greeting cards, I've accumulated nothing over the years. So if all that is a good place to start, but you don't have any of that…well, how do you start?
Everyone has to start somewhere, I tell myself. Don't despise these small beginnings, for the Lord rejoices to see the work begin…
The Kindle Scout campaign is moving along slower than I would like. My novel was actually "hot and trending" for two hours on one day. Mostly I like to tell myself it is probably at least warm and interesting, but it might actually be cold and outdated. Hard to say. But it's a start. And so daily I remember, don't despise small beginnings.
Zechariah was a prophet of God who was tasked with encouraging the Jewish people and their religious and civil leaders as they began the process of rebuilding their temple. It was a monumental project with small, discouraging beginnings. The people couldn't see the glorious finished temple the way Zechariah could, and so God, through Zechariah, encouraged them…and me…by telling us don't despise small beginnings.
Have you, like me, ever despised small beginnings? Let's look to the glorious plans God has for us instead!